Hershey Bears goaltender Pheonix Copley has spent seven years in professional hockey. Throughout those years he's had an array of different goalie masks but all these masks had one thing in common, candy canes on his chin. Candy canes are an odd thing to paint on a hockey mask but there is a hidden story behind the sugary candy donned on his mask. 
Copley was born January 18, 1992 in North Pole, Alaska. This little town prides itself with the Christmas spirit in during the holidays. In order to have a piece of his heritage with him, Copley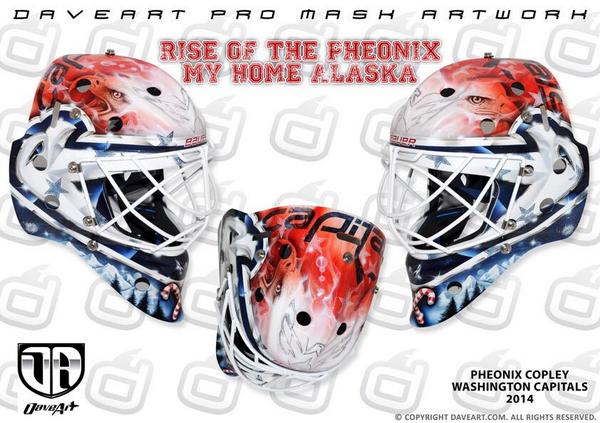 has candy canes painted on each of his professional masks as a tribute to his hometown.
His first appearance in a candy cane mask was in October 2014 during his rookie season with the Bears in his first stint in the Washington Capitals organization. While sporting this mask, Copley finished with a 17-4-3 record, with a .925 save percentage, stopping 677 shots in 26 games. Swedish airbrush artist, David Gunnarsson, created and named his piece "Rise of the Pheonix- My Home Alaska."
Due to wear and tear and chip damage, Gunnarsson created another piece that was claimed to be interactive. David states "When you look at the paintings on the sides through a camera and invert the colors… it transforms in front of your eyes and the eagles emerges…" Copley was first seen sporting this interactive mask in February 2015. As seen below, this mask sported the famous candy canes on the chin as a tribute to his hometown and so the tradition began.
Copley was involved in a deal that landed him in the St. Louis Blues organization while T.J. Oshie found his new home with the Washington Capitals. Once again, Dave created a piece for Copley to fit into his new organization while playing with their AHL affiliate, the Chicago Wolves. This mask was classy from a distance, but a closer look reveals the intricate detail and tribute to his hometown, including the famous candy canes. The mask was unveiled in October 2015, just in time for the season in which Copley finished with a 15-16-3 record, with a save percentage of .909, stopping 969 shots in 37 games. After receiving multiple NHL call-ups, including one by the Washington Capitals his rookie season, Copley finally made his NHL debut with the St. Louis Blues, entering the game with 4:26 left in the second period. He stopped  of the 6 shots by the Nashville Predators.
On August 8, 2016, Copley tweeted a video of his new mask, once again, designed by Dave. He did not abandon the candy cane tribute, and it is now an expected sight on Copley's masks. Unfortunately for Copley, he was unable to sport his new mask for St. Louis very long as he was traded back to the Capitals during the 2016-17 season.
In December of the 2016-17 season, Copley was seen sporting his new Chicago Wolves-themed mask, which was his first AHL themed mask. Shortly after, he was traded back to the Washington Capitals organization and sent to the Hershey Bears.
Due to the nature of the quick trade, Copley was seen sporting his Blues mask and oads in Hershey before his new Washington Capitals mask was ready for action.
By mid-March, his Capitals-themed mask was ready to see some ice time in Hershey. Copley set his career-high save percentage at .931 in 16 games, stopping 443 shots good enough for a 11-5-0 record.
Copley is currently seen sporting his red Washington Capitals themed mask with the Hershey Bears during the 2017-18 season. His style and masks may have changed quite often throughout his career, but one thing remains the same, his tribute to his hometown. Copley states, "All the time, people ask me what they're for, it's kind of a random thing, but it's cool. It kind of pops on the chin. It's just a little tribute to North Pole."
By Allison Shuey